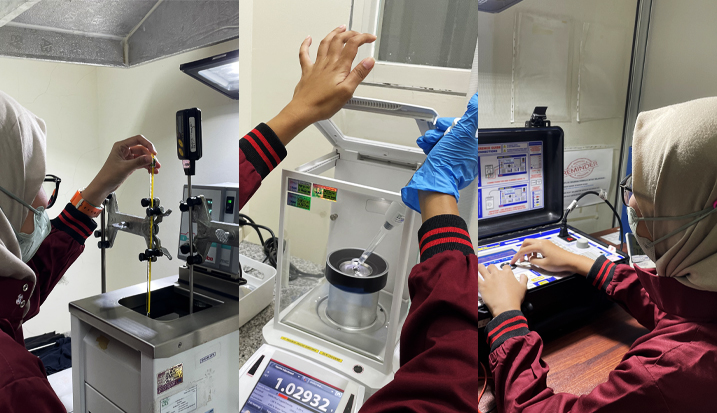 AAS Laboratory established a new division in the field of Calibration Services in 2015 because almost all manufacturing companies make products that prioritize precision, so calibrated measuring instruments are required to ensure accuracy.
Calibration Division of AAS Laboratory has been accredited by KAN with the number LK-245-IDN as an independent body that performs calibration by implementing a laboratory management system based on ISO/IEC 17025. CSIRO-Australia, OIML, ASTM, AS, ILAC, and NATA are used as reference methods.
Calibration Division of AAS Laboratory provides measurement and calibration services in the laboratory and in the field, supported by professional and experienced calibration technicians and appropriate and traceable facilities and infrastructure against national and international standards (on-site).
Enclosure & Temperature
Incubator (20°C-70°C)
Oven (30°C-200°C)
BOD Incubator (20°C)
COD Reactor (25°C-200°C)
Furnace (200°C-1000°C)
Refrigerator (2°C-8°C)
Thermometer (0°C-150°C)
Thermometer Infrared
Thermometer Digital
Waterbath (0°C-200°C)
Oilbath (0°C-200°C)
Mass
Analytic Scales (0 g – 200 g)
Digital Scales (0 kg – 200 kg)
Anak Timbangan (5 gr – 50 kg)
Volumetric
Volumetric flask (0 ml – 100 ml, >100 ml – 2500 ml)
Measuring cup (0 ml – 5 ml, 250 ml, 1000 ml)
Volume pipette (0 ml – 50 ml)
Measuring pipette (0 ml – 50 ml)
Burette (0 ml – 100 ml, >100 ml – 2500 ml)
Micro pipette (100 µl - 5000 µl)
Electricity
Multimeter (Volt Meter AC & DC : 0,6 V – 1000 V, Resistance : 60 ohm - 6 ohm )
Clampmeter (Current AC : 0,2 mA – 500 A, Current DC : 20 µA - 500 A)
Tang Ampere
Insulation Tester
Earth Tester
Conductivity Meter (500; 1412; 2764 µs/cm)
Pressure
Pressure Gauge (0 bar – 70 bar, 70 bar – 140 bar, 140 bar – 300 bar, 300 bar – 700 bar)
Magnehelic ( 0 Pa – 1000 Pa, 1000 Pa – 2500 Pa)
Flow
High Volume Air Sampler (0.64 m3/minute - 1.43 m3/minute)
Impinger Flowmeter (1 Lpm - 10 Lpm)
Personal Pump (0 Lpm - 3 Lpm)
Rotameter (1 Lpm - 10 Lpm)
Frequency and Time
Centrifuge (180 seconds – 300 seconds, 100 rpm – 8000 rpm)
Analytic Instrument
pH Meter (4, 7, 10 pH)
TDS Meter (50; 300, 1382 ppm)
DO Meter
Conductivity Meter (500; 1412; 2764 µs/cm)
Spectrophotometer
UV-Vis
Autoclave ((Temperature Only) 120 - 140°C, 120 - 140°C & 0 mPa - 5 mPa)
Medical Devices
Spyhgmomanometer (0 - 250 mmHg)
Digital tension meter (0 - 250 mmHg)
Baby scales (0 kg - 20 kg)
Oxygen Flowmeter
Rotator
Freezer
Vortex Mixer
Scales
Sterilisator
Examination Lamp
Clinic Thermometer
Digital Thermometer
Other Services
Laminar Air Flow
Lemari Asam
Isokinetik APEX
Gas Detector / Analyzer (O2, CO, LEL, H2S)
Thermohygrometer (15 - 40°C & 40-70%RH)
Infrared Thermometer
Turbidimeter
Refractometer
Viscometer
Sound Level Meter
Lux Meter
Vibration Meter
Noise Dosimeter
Anemometer (Air Velocity, temperature, humidity, Barometer)
Barometer (930 hPa - 1005 hPa )
Torque (25~500Nm)
Caliper Digital (0~200 mm)
Atomic Absorption Spectrophotometry (AAS)
UV Light Meter